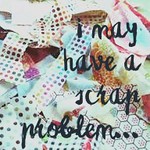 Like so many areas, we are into the deep freeze with snow, wind, and ice. A good mix for staying inside and enjoying some scrap play.
First up I want to tackle these cut offs one of our students gifted me. Some very pretty orientals that I am using Bonnie Hunter's Hour Glass Block Challenge with. These are just a beginning as Emily is making 40 star blocks and I should eventually receive 320 'points' - makes for a lot of hourglasses. I don't have an oriental stash, so this is gold to me.
Then I am taking on these strips to make some string blocks on old phone book papers. I don't have to think too hard - just run them thru the machine while some music plays in the background.
Hope you get to sew today,
Sewingly Yours,
Sharon