I'm a flip-flop gal - looking forward to making that flippety-flappity sound while walking outside this June.
This should be a quieter month spent at home, so I hope to get my machine really humming along.
This month's color is Aque with an accent of lime. I should have just enough scraps in this combo for the column quilt. Something about a split pinwheel design which should make for some fun play.
I have my next row ready for this week and want to make it a nightly bit of needle work to unwind with or I can use it for the Slow Sunday Stitching.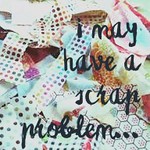 I'm combining these two challenges into one project - hey, that's allowed.
I have this tub of scraps that needs serious taming if not emptying.
This is my source for inspiration and one of the quilts on the cover caught my eye.
A colorwash rail quilt - love it. And I know it will do great work on that tub of scraps.
And I will have a project to share with this Hop
June 02
There is this pile of quilts (think there are 4) to get some quilting done on them.
Over the holiday weekend I managed to empty all of these containers and little baggies to hopefully finish up a project that has been four (?) years in the making.
If I can get Moe to move, I can get the last few rows sewn on and then those quandrants together for a flimsy.
I was hoping to attend this (some of my pieces are going though), but with no vehicle I will be managing the storefront and sewing away.
And I haven't been vending in a long time, so participating in this local venue.
A good month of stay home time - keeping it local. And I am going to be sure that some where in the mix I am getting myself an icecream cone. I hear the local Stewarts shop has a new flavor for summer - Blueberry Blush - that I just have to try.
Sewingly Yours,
Sharon