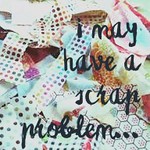 I LOVE my scraps!! Well, I love everyone's scraps and so grateful when they share them with me. Mixing mine with others makes for some wonderful projects, but they can get to the point of needing taming.
I look forward to SARAH sharing some STAR patterns with us heading into Hands2Help and not only will it help in taming scraps, but will make up a few lovely quilts to gift on to charity.
Remember I pulled my green drawer and had some assistance with selecting fabrics and projects. Here comes my love for making blocks!
I now have all my full and partial paw blocks for the new Black Bear quilt.
The beginnings of Meadow's Mountains - large and small geese and I am getting some bonus HSTs from those large geese cut-offs.
I took my Mom into town for some errand running in the Morning - we got back as the ice storm was just starting. So I used the icy day to continue playing with my geese - paired the little ones.
And still played by putting the blocks together. These will get sewn tomorrow with the forcast of snow - stitching weather for sure. There are borders yet to go - yes, you heard right - BORDERS which I just love to do - NOT.
Some mix of green with my ever abundant browns for Jacob's Ladder blocks. I have half of what I need for the top and the other pieces are cut and laid out by the machine to use as leader/enders - or maybe I will go full guns with them - who knows.
So a good start to taming the scraps. I'm hoping the storm clears because I am escaping this weekend.
** linking up with ScrapTastic Tuesday **
Sewingly Yours,
Sharon