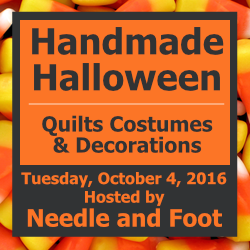 Bernie over at Needle and Foot is having her first linky party. Dig thru your old posts and share you Halloween creations. There are a few days left to link up, so you have a little time.
My black cat in the window came about when Moe went missing - he was found 8 days later very hungry. And the pillow with both my furkids - Tabby Bella and Tuxedo Moe.
Harvest House - not scarey Halloween, but with the Fall season.
Grape Vine Wreath with tutorial HERE.
Wicked Last of the Ghastlies
And the back is as cool as the front
Fussy Cut Fun
I used this TUTORIAL from United Notions for some fun monster zips.
More Ghastlie Fun
And a whole room filled with Ghastlie! Original post found HERE