I had to take a 'breather' day away from anything fabric or thread. A walk, a visit with a friend, a stroll thru a store - just breath. We all need a refreshing day or so away. Now to welcome a new month.
I may make my Slow Sunday into a slow weekend for the month of July. My '365' circles and the Hexie 'garden' project to help me learn to breath again.
I am rolling over my Rail/Colorwash project which I kind of slacked on in June. Well, I had to get setting fabric - but now for a finish.
RSC16's color is the yumminess (is that a word?) of watermelon. I never got to June's color of aqua due to not enough scrap in the color (collecting slowly), but I can manage watermelon.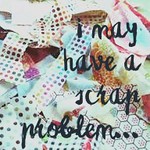 I am pulling things in reorganizing shelving storage - all those boxes, baggies, bits that need cleaning up. I've worked them as leader/enders or a day of play.......
and they are all piled on the quilt rack near the sewing station. Yeah, the piles not neat, but I will work thru this even if I have to designate a day a week just for this. And Bonnie Hunter should be revealing her scrap project this month. I didn't do last year's challenge of tumblers as I had already made a couple - looking forward to this one to help clear some old fabrics off the shelves.
I will keep up with the QALs - Circa 2016 is a lot of little blocks and slowly working thru all the little HSTs needed. I may need a larger container soon.
I love Barbara Brackman's projects - the history along with the blocks just fascinates me. The newest Westering Women block - love it, but wouldn't want to make a whole quilt with this one.
And Adinkra - for some reason I don't have an updated photo to show.
I will be vending at a local event. And I have a picnic with the Catskill Mountain Quilters Hall of Fame.
I will be taking part in this - hope to see you there.
I forgot to yell out to my Northern friends - Happy Canada Day! AND Happy and Safe 4th of July weekend people,
Sewingly Yours,
Sharon