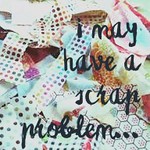 Although having a lot of scraps is not a problem for me, I joined Sarah's scrap busting monthly program because I love playing in scraps. Pull them out and USE THEM!
My Let's Book It project is technically a scrap buster as all those rails are coming from scraps. Either from the string box, pre-cut 3.5" squares from the barrel, pieces gifted in baggies, or odd balls in the FQ totes (no they are never full FQs).
Play time with the over stuffed 2.5" square barrel produced......
a 40" x 48" postage stamp quilt. I will add a couple of borders to bring this one up in size. This will be added to the charity drive for our quilt guild.
Although my background is new fabric, all the circles for the '365' are coming from the scraps I play with. This really is a 'fabric' diary for the year.
Some found pinwheels played nicely with scrap solids and left over JR strips for a colorful charity quilt for quilt guild.
I saw this little "Freedom FLag" banner over at Temecula Quilt Co. I just happened to have the red/white/gold strips on my sewing table at the time. Pulled some blue squares from the barrel and a left over binding from the drawer. Finished 5.'5" x 18"
What plans are there for July? I don't know - it will be what ever strikes my fancy. Sometimes I just get those days that need play time.
Now go play,
Sewingly Yours,
Sharon