Have you found some ME time yet? It doesn't have to be finding time to stitch. It can be enjoying some baking, a new craft, a special trip (unplanned day trips are fun), visit a friend, pamper yourself at the Spa (I had my first pedicure - loved it!), enjoy a good book, or spend a little time in the flower beds.
Please be sure to visit Marcia for all the goodies she will be sharing, too. And please, join us in this wonderful event and share some of your ME with us and use the linky, too.
TUTORIAL
This week I thought I would share a little tutorial on making the Kite Block.
Easy start - simple 4-patches. You can use any size square you like, but my 2" barrel is stuffed so that is what I am using.
Then add side braces. Since my 4-patches are 3.5" square, I cut 2" x 3.5" rectangles for two sides and another 2" square for the corner. Change your rectangle cutting size to fit your size 4-patch. I have a basket full of white, white on white and white with tiny print that need using up, but you can use what suits you.
Horrible photo - but the next step is to add another brace round on the same side. Since my little kites measure 5", I cut a 2" x 5" rectangle for the two sides and another 2" corner square. Now my blocks are 6.5" unfinished. Typically Kite Blocks have as many 'tails' as units in your patch, but you can play with them as you like - it is YOUR quilt.
You can set your Kites side by side so they are blowing in the wind.
Or you can use the traditional setting of 'on-point' so they are flying high in the sky. I plan to set mine on point - but again, the quilt is all about YOU.
WINNER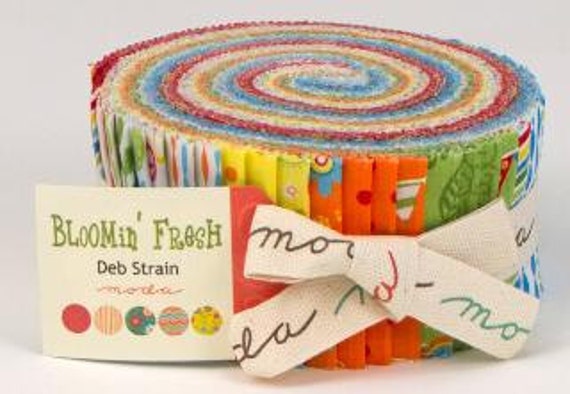 And the winner of last weeks birthday give away is:
Lyndsey said...
Happy Birthday month Sharon. My favourite breakfast is croissant and hot chocolate. I like the croissant warmed and with raspberry jam and if my husband makes breakfast and brings it to me in bed I am in heaven.
Gosh I would love breakfast in bed, but I can't get my two furry friends to cooperate. I will send an e-mail off to Lyndsey for her mailing information.
A Jelly Roll of 'Addison' by Nancy Gere for Windham Fabrics. Oh, they look like a box of candy - chocolates and mint patties. So my question this week is

what is your favorite candy

? The comments will be open until Weds. 5/14 (12pm EST) and winner announced with next weeks give away. I will ship international, just be sure I can contact you.