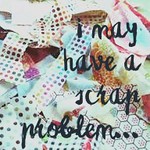 I love having scraps and playing with scraps, but it got to a point of being over whelmed - so I shared some of my gifted and own pieces with our sewing ladies thru the weeks. Things laid out on the long banquet table and come help yourself. Oh, I could keep it - stuff the boxes, totes, shelves, BUT never to be used up or seen. Sharing is more fun.
I have plenty of scraps to play with, like my bits of CW fabrics that I have saved right to the smallest piece. They are coming in handy with the Temecula Quilt Co Marvelous Minis.
Even my temperature rosettes are being made with scraps. I chose to designate the eclipse in this weeks as it was a special event for the year. 76,73,74,77, 80,E,80
Someone asked to see how the Rolling Nines block looked set together, so I set them out. The prints are from a FQ bundle, but I am using up some Kona White that was cut offs from a few quilts.
My smallest bits of throw aways from that snip bag - eight pineapples done and I need to make eight more. These are paper pieced and 3.5" unfinished. Todays project!!
Now go play,
Sewingly Yours,
Sharon